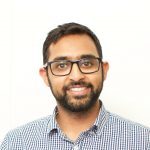 Anand is a highly experienced family dentist with over 17 years experience. In 2013 Dr Makwana arrived in Australia from England and has worked in regional Victoria (Swan Hill) and Melbourne before making his home in Warragul. Anand was born in London, England and trained at the University of Leeds (2003) before completing a Masters degree from the University of Birmingham in 2013. He was due to teach at the University of Birmingham but decided to move down under to the sunshine instead. Great decision Anand!
Anand is a brilliant all-rounder. He's a skilled general practitioner providing all aspects of dental care for his patients including traditional braces, Invisalign braces and fast-track braces. He also has a special interest in treating nervous patients. He has worked at a specialist sedation clinic in England where he exclusively treated phobic patients. If you're a bit nervy about dental visits, book in with Anand. We guarantee he will put you at ease and work with you to provide the treatment you need. Anand also provides braces for both children and adults using all the latest techniques and technology.
One of Anand's greatest skills is that he can explain technical dental procedures in really simple English. In fact, he promises to only use non-jargon when you visit him! Anand is focused on providing your dental healthcare for life and looks forward to seeing you.
Outside of work Anand is an adventure traveller; he's ridden his motorbike to the North Cape and driven a vintage London taxi from London to Turkey. Anand and his partner Belinda (Brauman) are just good old-fashioned outdoorsy people – and when they're not travelling around the world they love cycling, hiking, and spending their time sightseeing around beautiful Gippsland.